Welcome to the Non Profit Advisor Academy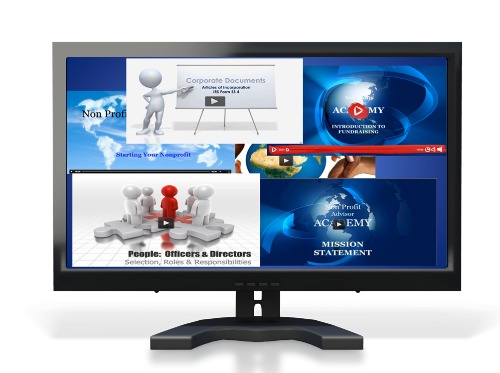 Mission, Vision, Values
All successful nonprofits are clear about their mission and purpose.  Module 1 is all about how to craft a powerful and effective mission statement, establish and communicate your organization's long-term vision and identify your nonprofit's defining values!   These lessons are an online version of our most popular live workshop trainings.
People: Officers, Directors, Donors, Volunteers
In Module 2, you'll discover the people and positions needed to operate a successful organization including the roles and responsibilities for each of the officer positions and how to find the "right" people for your organization.  You'll also learn a method to determine when to delegate responsibilities and how hold people accountable.
Forming a Nonprofit Corporation
Module 3 is all about how to form your own nonprofit corporation.  You'll learn the basic components and definitions of incorporating and look over our shoulder as we demonstrate, line by line how to complete the incorporating forms and apply for an employer identification number with the IRS.  We'll also provide the IRS language the must be included in your Articles of Incorporation.
Thanks for the information as it is extremely helpful.
Thank you so much for sending me this powerful lesson. It was very motivating and informative. It just really put everything in prospective.  Great tools to help me not to fail while getting my non profit off of the ground.  This is VERY helpful. Keep the info coming, GOD BLESS!!!!!
Thanks soooo much for your assistance with my mission statement.
Thank you, Mark!  You have simplified this for me…it just flows now!  I am so excited I liked your facebook page and visited your website.  I hope to take full advantage of your services!
Not only do I enjoy the videos, I also enjoy the information that you post in Facebook and the webinar that I recently attended. The resources that you have made available are helping me to make sure that I don't fail. Thank you for all that you share; I really do appreciate it.
Thank you so much for link I really enjoyed the lesson it was great. Keep up the good work my dear friends.
What are you waiting for? Get started today.
Dear Trish and Mark…Thanks so very much for the advice you gave!!!! I took down 4 long pages of notes!!!!
So far they've been EXTREMELY beneficial and really easy to follow step by step.  Can't wait to watch the next video!!!
Please review the mission statement that I have crafted after watching your very helpful video.  This is a great service that you are providing, and I am truly blessed to have your guidance.
Thank you for your time and informational videos!
Call Now to Join the Academy